Digital Entrepreneurship Innovation LAB
The Concept
The Digital iLAB is a new programme of the University of Vienna coordinated by the Research Network Data Science and the DLE Research Services and Career Development. It brings together top notch research with innovators from all disciplines to develop solutions based on digital technologies.
During the programme, participants will work in teams to develop their entrepreneurial idea or solution to a challenge related to the sustainable development goals. The iLAB is articulated in two phases; access to the second phase is granted through a pitch competition.
The goal of the Digital iLAB is to provide the basis for early stage ventures to secure further funding (FFG, AWS, EIT, etc.) or to participate in incubation programmes (INiTS, AustrianStartups, etc.).
As a complement to the programme, the first 20 registered participants will get a free ticket to the Digital-X 2022 event in Köln. The Digital iLAB is open to applicants worldwide.
Download the slides of the information event held on 25th of April from this link.
Phase I: training
The first iLAB phase starts on 13th of June with a full three-day bootcamp on entrepreneurship and digital technologies. Further trainings will be provided one or two evenings per week in 4-hour check-ins where the teams will get the opportunity to be mentored by scientific and business experts.
Since we understand that participants might have previous commitments or might be busy with exams, attendance to the training sessions, although highly recommended, is not compulsory.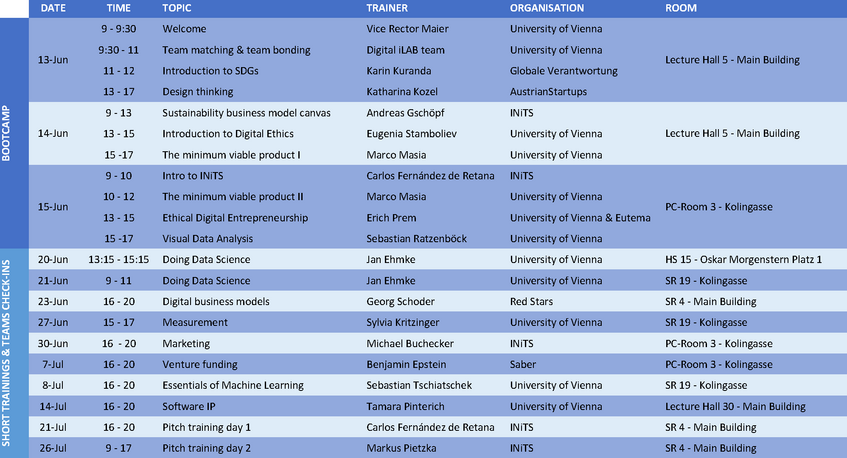 Pitch Day
On the 27th of July, the teams will pitch to a jury of experts with business and scientific backgrounds. They jury will rank venture ideas based on their potential to become successful. The winning teams will receive a certificate.
In addition, the jury will consider if the first two teams will pass to the second phase of the programme.
Our jury experts are:
Ronald Maier - Vice-Rector for Digitalisation and Knowledge Transfer, University of Vienna
Georg Schoder - CFO, Red Stars
Brigitte Pfisterer - Program Manager, INiTS
Hannah Wundsam - Managing Director, AustrianStartups
Karl Biedermann - Investment Manager, AWS
Phase II: innovator fellowship
The teams promoted to the second phase will get a fellowship for 6 months to develop their ideas further and possibly start a spin-off of the University of Vienna. During this period, innovator fellows will be mentored by scientific and business experts.